Bleak Flesh libera adelanto de su próximo material y habilita pre-venta del mismo.
La agrupación de death metal técnico santiaguina Bleak Flesh ha liberado el teaser de su próxima producción titulada "Overcoming Reality" habilitando también la pre-venta del material físico durante el mes de Marzo a $6.000. Este material audiovisual acompaña al primer videoclip oficial de la banda realizado para el track "The Spectral Path" perteneciente también a esta nueva producción.
Palabras de la banda:
"Esta nueva etapa representa un gran avance en todos los aspectos relacionados tanto con la producción de audio, composición, arte y líricas. Las personas que disfrutaron de nuestro material anterior no se decepcionarán".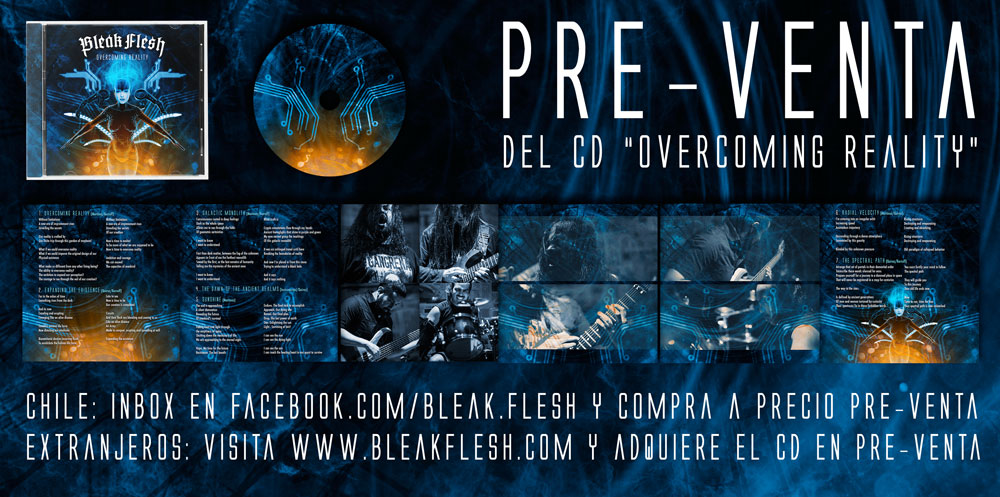 Detallamos a continuación el tracklist:
1. Overcoming Reality
2. Expanding the Existence
3. Galactic Monolith
4. The Dawn of the Ancient Realms (Instrumental)
5. Sunshine
6. Radial Velocity
7. The Spectral Path
Para comprar el material en Chile a precio pre-venta se debe contactar directamente a la banda mediante inbox en su fanpage en facebook y para adquirirlo desde el extranjero, debes visitar su sitio web oficial. Los discos estarán disponibles para su entrega y envío en el mes de abril.
Fanpage: https://www.facebook.com/bleak.flesh
Sitio web oficial: http://www.bleakflesh.com/
Videoclip official "The Spectral Path": https://www.youtube.com/watch?v=THUh5n7by18
BLOG COMMENTS POWERED BY DISQUS