Anfractuous Moments For Redemption lleva por nombre el primer larga duración de la banda Death/Doom Weight of Emptiness el cual fue lanzado a principios de marzo de 2017 y contiene 9 temas.
Hace no mucho publicamos el review del EP Anfractous de Weight of Emptiness en el que hacíamos una descripción de lo que traía ese trabajo y de paso hacíamos referencia al nuevo disco de la banda que saldría en marzo. Y aquí estamos, hablando nuevamente de la banda y de este, su primer larga duración.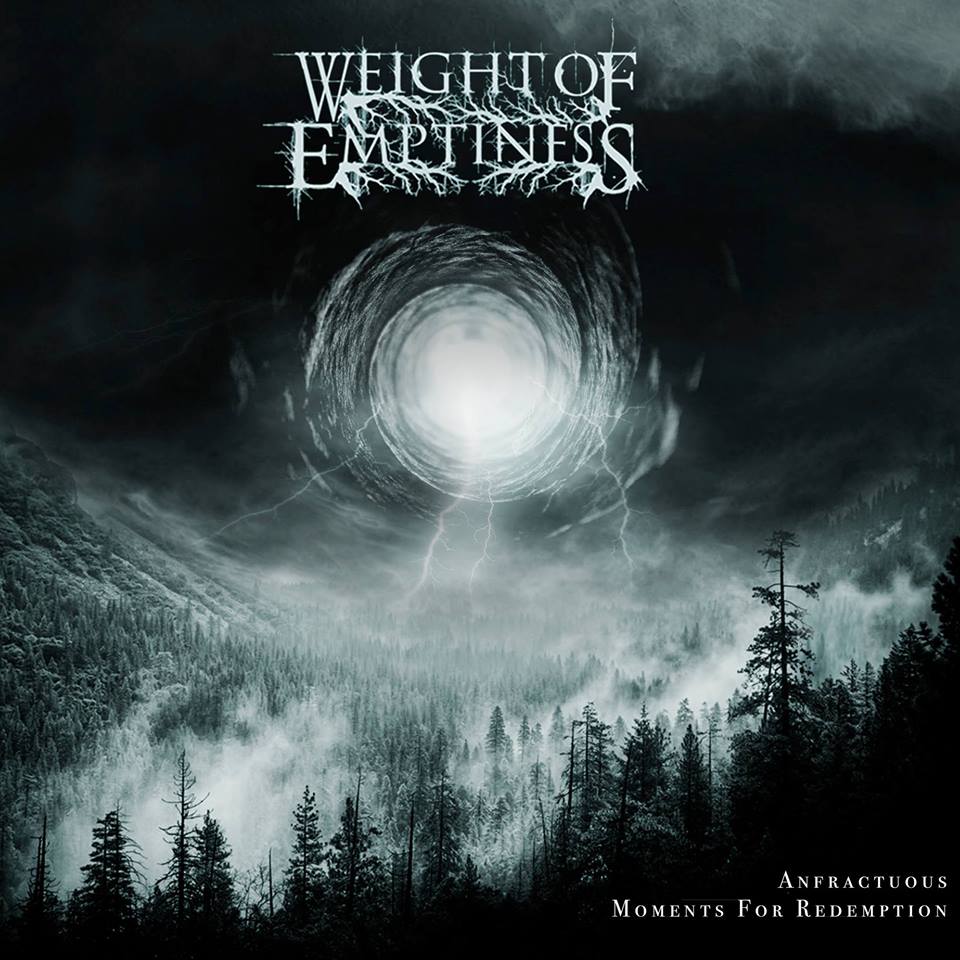 Como era de esperar, los temas pertinentes a su EP están incluidos en este disco, lo que da cierto grado de continuidad en lo que se puede escuchar, y de paso hace entender que la banda continúa una senda clara balanceando el Death y el Doom, con algunas pinceladas de Black Metal.
A los 4 temas que traía el adelanto de este trabajo se le agregan otros 5 cubriendo 47 minutos de un disco que destaca por un sonido bien cuidado y una presentación tipo digipack, con diseño de Eduardo P. Ocampo, que da a entender que la banda no ha despreocupado ningún aspecto en esta placa.
Anfractuous Moments For Redemption mantiene una línea coherente, pero a la vez dinámica apoyando su base sonora en guitarras claras en una mezcla de melodía y fuerza potenciadas por una secuencia de bajo que da mayor fondo a cada uno de los cortes de éste larga duración que a la vez se corona con una voz de intervención justa pero que llena cada espacio que pueda dejar la melodía.
Dejando de lado los temas pertenecientes a su disco adelanto Anfractous, este primer LP de Weight of Emptiness posee temas que pueden llamar ampliamente la atención como lo es Cancer, un tema que entremezcla voces agudas propias del Black Metal con las graves del Death en un acompañamiento musical que invita y obliga a seguir el ritmo con cierto entusiasmo. Otro tema a destacar es Inner Chaos que se separa un poco del resto de las composiciones con una amplia introducción melódica a base a guitarra limpia ahorrando la distorsión para más adelante en donde se vuelve a la carga con aquel sonido que hasta el momento es el tinte que la banda pretende impregnar, acompañada con una voz que varía entre lo grave, lo agudo y luego un tono natural que se aleja de cualquier guturalidad. Es el tema más extenso de este disco, pero también el de mayor dinamismo.
Como primer disco, Anfractuous Moments For Redemption es un trabajo pulcro y bien cuidado por parte de Weight of Emptiness, lo que denota la experiencia de sus integrantes y el enfoque claro que cada uno de ellos quiere impregnar a la banda. Este es un disco que no decepciona y que invita a poner atención.
Anfractuous Moments For Redemption contiene los siguientes temas:
Anfractuous (Intro) 01:25
Behind the Masks 06:42
Unbreakable 05:58
The Silence 05:42
Holy Death 05:21
Cancer 05:37
Weight of Emptiness 05:34
Inner Chaos 09:21
Redemption (Outro) 02:00
Weight of Emptiness está formado por:
Alejandro Ruiz (Lead Vocals)
Juan Acevedo (Guitars)
Alejandro Bravo (Guitars)
Manuel Villarroel (Bass)
Mauricio Basso (Drums)
Para más información pueden contactar a la banda a través de su correo Esta dirección de correo electrónico está siendo protegida contra los robots de spam. Necesita tener JavaScript habilitado para poder verlo., su sitio web https://www.weightofemptiness.com o su perfil de Facebook en https://www.facebook.com/Weightofemptiness
BLOG COMMENTS POWERED BY DISQUS