Triboulet nos trae su segundo trabajo y primer larga duración bajo el nombre de The March of the Fallen. Una placa compuesta de un sólido Power Metal distribuido en 11 temas.
Triboulet es una joven banda que recientemente ha cumplido 4 años de vida en la cual en el año 2014 lanza su primera grabación de nombre Quiero Decirte el cual contiene 4 temas y con la cual esta banda comienza a ganar adeptos y a obtener la colaboración de voces reconocidas dentro del metal en Chile como lo es Ives Gullé y Caterina Nix con quienes han participado cercanamente.
En junio de 2016 aparece The March of the Fallen el cual es el primer larga duración de Triboulet el cual fue grabado durante 2015 en AST estudios y el cual está compuesto de una alta dosis de Power Metal reforzando la reivindicación de este estilo en Chile. Si bien los cultores del Heavy y Power Metal no son pocos en el país, Triboulet le da un impulso extra que no viene nada de mal.
La placa posee una potencia a toda prueba que solo disminuye en los instantes precisos, justamente para realzar pasajes en ciertos temas, como es el caso de To Win o al presentar alguna "Power Balad" como Lost Innocence. Luego de eso Triboulet se las arregla para aumentar la marcha lo suficiente como para dejar los ánimos en alto a lo largo de todo el disco.
Esta es una placa con bastantes puntos altos, por lo que no es de sorprender que este disco pueda tener buena acogida por quienes sean asiduos al Power Metal por sobre otros géneros y sub géneros del metal.
Y hablando de puntos altos. Se vuelve un deber en esta placa detenerse en temas como Into the Oblivion con su marcado doble bombo y su coro recordable, Perhaps con su ritmo propio y arreglos de teclado bien pensados y el tema que da nombre a esta placa, los que si bien son temas destacables tan solo son un ejemplo del potencial que Triboulet posee por explotar.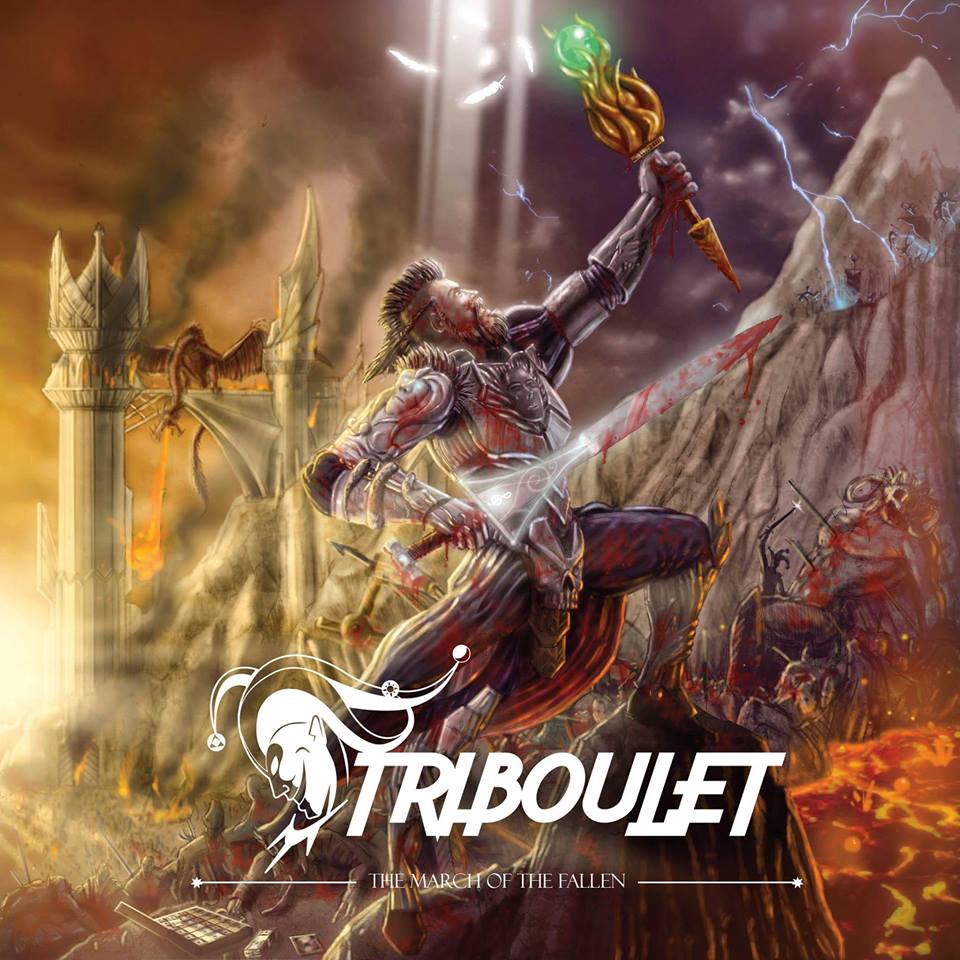 Como es de esperar la banda intenta buscar un sonido propio, encontrándolo a ratos, aunque aun se encuentra bajo las influencias de algunas bandas conocidas, por lo que no es de extrañar encontrarnos con pasajes que hagan recordar a bandas extraconocidas como Sonata Arctica, por solo nombrar una, pero esto es un punto que es muy común entre las bandas que van avanzando en su carrera, lo que no quita merito a una placa de excelente confección.
Son muy pocos los puntos bajos en este disco. La composición ha sido algo bien cuidado por lo que tan sólo personas muy quisquillosas y puristas podrían encontrar algunos detalles ya que para quienes prefieren aceptar el trabajo tal como viene va a ser una grata experencia oir este primer larga duración de Triboulet.
En definitiva. The March of the Fallen con todo su Power Metal, sacado de la influencia de muchos exponentes, ha puesto la vara alta para próximas producciones lo que habla de una banda con músicos dedicados que se compenentran bien en cada composición.
The March of the Fallen está compuesto por:
The Beginning Of Eternity
You'll Never Be Alone
To Win
To Start Over Again
Into The Oblivion
Perhaps
Dreams Of Freedom
In Our Hands
A New Dawn
Lost Innocence
The March of the Fallen
Para más información pueden visitar a la banda en las direcciones https://www.facebook.com/TribouletMetal y http://www.triboulet.cl
Triboulet esta formado por:
Sebastian Jaque (Vocalista)
Nicolás Saez (Tecladista)
Maximiliano Jaque (Guitarra)
Benjamin Bello (Guitarra)
David Plaza (Baterista)
Mauro Silva (Bajo)
BLOG COMMENTS POWERED BY DISQUS