Lefutray nos presenta Oath
Si hay cosas que odio en muchas placas son las intros. Esa idea de generar un ambiente previo que muchas veces sobra y que suele dar la impresión de que sólo fue puesto para para agregar minutos a un disco. Y si bien mi odio parido a las intros es algo que en el tiempo se ha acentuado, en el caso de Oath, debo hacer una obligada exclusión, ya que si bien los primeros 20 segundos me pusieron alerta sobre con lo que intentaban abrir su nuevo trabajo, ya en el segundo 21 mi disposición comenzó a cambiar.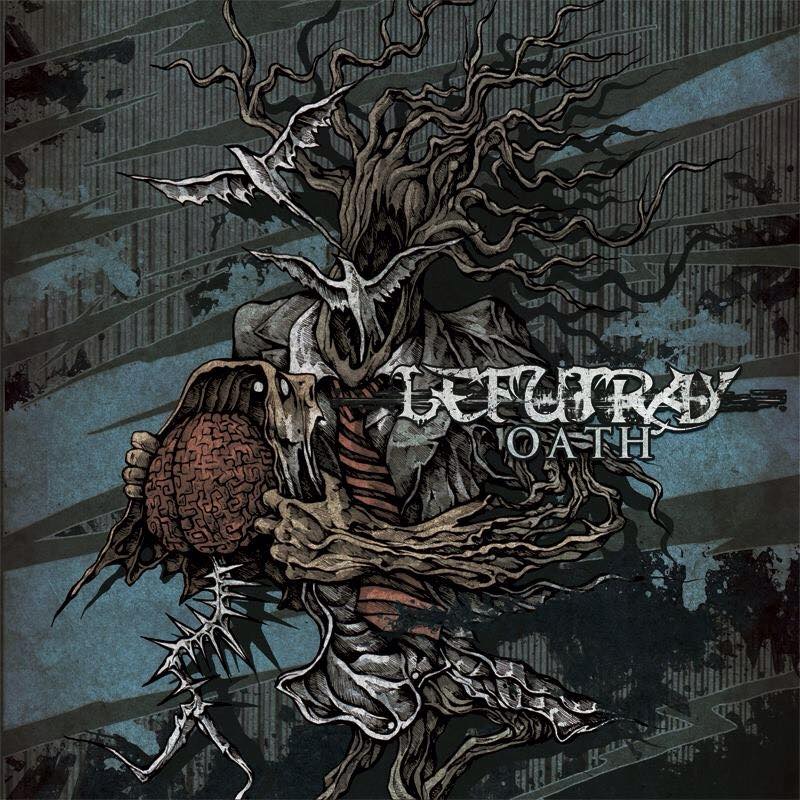 Dando nombre al disco 2015 de Lefutray, Oath es un tema instrumental qué ocupa sus primeros minutos para sacarte de manera lenta y pausada de tu estado de reposo, dando el primer impulso y poniéndote alerta para lo que viene a continuación.
Acá ya se encuentra una gran diferencia, ya que este primer tema no es precisamente una Intro, sino más bien un preámbulo; Minutos bien utilizados para llegar de manera efectiva a algo más interesante, siendo este el primer punto alto de este nuevo trabajo de Lefutray.
Cambiando bruscamente de velocidad desde su primer a su segundo tema, The World Infected, Oath es una placa que mantiene un empuje constante a través de los más de 45 minutos que dura, generando la fuerza suficiente como para moverte de donde quiera que estés. La historia se repite a medida que pasan los temas y no es de extrañar que el movimiento que genera este disco se mantenga con igual o mayor intensidad en los minutos venideros.
La fórmula utilizada por Lefutray es clara, apoyándose en inicios mayoritariamente arrasadores con cambios de ritmo sutiles que dan paso a pasajes densos de intensidad levemente reducida con riffs pegajosos que acompañan y dan protagonismo a una voz que escupe toda la ira reprimida y que termina por complementar cada creación. Minds of Horror y Womb son una clara muestra de lo antes dicho. Melodías bien marcadas y una voz potente que invita a subir el volumen. Si te quedas quieto ante estos temas es que algo no va bien y que caíste solo por casualidad en este review luego de, también por casualidad, escuchar este disco.
Otro tema a destacar es Aura, el cual se ubica en el séptimo lugar de este disco, el cual posee una velocidad muy similar a Oath (nos referimos al tema) presentándose como una leve pausa antes de continuar.
Si el disco anterior de esta banda te agradó lo más seguro es que Oath no pasará desapercibido. La banda mantiene la fuerza de sus trabajos anteriores, pero dando claras muestras de que aun esta para más y mejores cosas.
BLOG COMMENTS POWERED BY DISQUS